TAKE A LOOK
Key Features & Improvements
School Landing Page Updates
Once you select your school, easily find everything you need to know about your school's uniform program. Start shopping by selecting a grade & gender.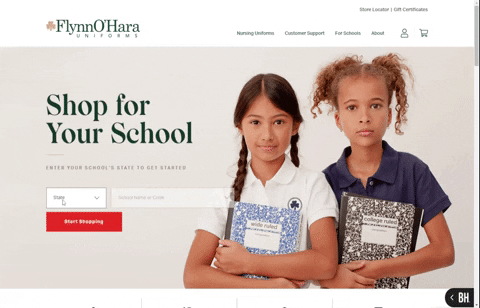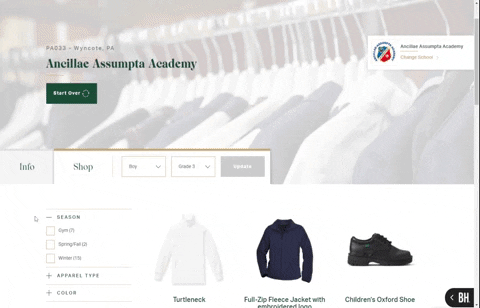 Use filters to shop by category, season, and color. Don't forget to check out our new hi-res product images, featuring multiple angles and zoom - so you can see every detail! Plus, we've expanded our product information and size charts on each product page.
Your cart will now automatically save for 30 days. Plus, you can share your cart (highlighted) via email with friends or family.
Search by school or location! Our new and improved store locator now takes you to a customized store page.
Try Our New Store Locator
Educator Discount Application
Are you a teacher, administrator, or staff member at one of our partner schools? If so, you're eligible for FlynnO'Hara's 15% educator discount! With the launch of our new site, educators can apply for the discount online for easy year-round use.
Apply for an Educator Discount
Get the perfect fit from the comfort of your own home. Schedule a virtual fitting with one of our uniform experts
Learn About Virtual Fittings
Questions? Check out our new FAQ page! We've reorganized and expanded questions by topic so you can find the answers you need.
FAQ